Democracy is pretty cool. We should try it some time.
I love helping people participate in politics, whether it's scientists, voters or volunteers.
My work is at the intersection of science, technology and organizing and my services include writing, editing, event hosting, and media relations, including crisis communication. I'm currently doing communications work for Catalist, a leading progressive data utility, and consulting with several organizations and causes.
I'm also qualified as a Certified Bicycle Technician through the United Bicycle Institute in Ashland, Oregon where I completed a course in Professional Shop Operations and Repair.
In my free time, I enjoy lifting, hiking and supporting local demonstrations in DC.
This site is where you can find my independent writing. You can find me on Mastodon. My Twitter account is live, but largely used for monitoring. You can also reach me at aaronhuertasATgmail.com. And here's my LinkedIn and a copy of my resume.
Career Highlights
I spent the bulk of my early career at the Union of Concerned Scientists (UCS), where I helped researchers communicate with policymakers and respond to bad faith attacks on their research, including censorship and political interference. As science communication became an increasingly important part of the scientific community's work I started conducting workshops and compiling communications guides for scientists.
In 2014, I analyzed a year's worth of cable news coverage of climate science, which led to significant improvements at CNN, where hosts were still hosting debates about the reality of climate change at the time.
In 2016, I became increasingly worried that Donald Trump would win the presidency and left DC to lead a field office for NextGen Climate in Athens, Ohio. While I'd volunteered for campaigns before, this was first time doing full-time organizing work.
After Trump won, a lot of new groups sprang up, including 500 Women Scientists, a science-justice focused group that's now a fully fledged non-profit organization with thousands of members globally. I was proud to serve on their national advisory board for several years and help out with voter mobilization programming.
I also volunteered with the national March for Science organization in 2017 and joined other volunteers to speak out against organizational mismanagement post-march. Thankfully, the march included some happy memories, especially meeting Dr. Mona Hanna-Attisha, who exposed the deadly lead poisoning in Flint's water supply.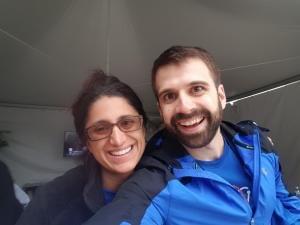 I also started working with Swing Left, a grassroots group that connects volunteers to their closest competitive House district. I served as the organization's strategic communications director, which involved a lot of work on messaging and translating between our field and tech teams to make sure volunteers were getting what they needed to organize. We also discovered that the progressive movement was running short on email practitioners, so I stepped up to lead our email program, which wound up raising $10 million for House candidates and connecting 1 out of every 12 Swing Left subscribers with a canvassing or phonebanking shift, wildly exceeding even our own ambitious expectations.
I'm especially proud of that email program because we fully integrated our field team into developing custom content based on specific House districts and local voter contact goals. That detailed work (and lots of conditional email coding) paid off with people understanding where their time would be best used and taking action.
With Democrats back in control of the House, I also had an opportunity to serve in a government startup, in this case as the communications director for the U.S. House Select Committee on the Climate Crisis. I created the first caucus-wide messaging platform for climate and clean energy issues and also got to integrate the "warming stripes" into what I humbly consider a pretty rad logo for a government body.
After launching the committee, I went back to working with voter registration and mobilization groups, including a startup—We Can Vote—that connected public health officials and election administrators as they responded to the COVID-19 pandemic and relatively rapid changes to election practices. We delivered several million dollars worth of programming, including online ads and paper voter guides distributed through health clinics.
The pandemic also gave me an excuse to learn how to do audio production, so I launched the Close Read podcast, which ran weekly episodes for several months.
Job Boards and Listings
​These are the jobs boards and listings I follow. Let me know if you find some more worth flagging. I regularly share this with folks looking for work.
Verification code for Mastodon.