New Report: Academic Engagement in Public and Political Discourse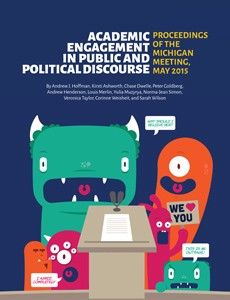 I finally caught up on my reading over the holidays and was pleased to examine a rich presentation of views on science communication from the University of Michigan.
The report is based on a conference the university held called"Academic Engagement in Public and Political Discourse," which featured many of the leading lights in science communication, such as Dietram Scheufele, who smartly acknowledged that most debates involving science aren't about facts, but about the "messy space" where science and values intersect.
Similarly, former Rep. Brian Baird (Wash.-D) challenged the participants to consider what flipping the conference's title might mean and why the idea of "public and political engagement in academic discourse" tends to give us pause. It's a thought worth contemplating: technology and democracy are making all institutions, including universities, more open to public participation — and public scrutiny. Academics are increasingly embracing that openness, along with greater transparency about their own values.
Andrew Hoffman, who directs the university's Erb Institute, organized the conference, which also included keynotes from NOAA administrator Jane Lubchenco and the always-positive, always-inspiring glaciologist Richard Alley. Hoffman's book

on climate communication, which I've reviewed previously, is an excellent resource for scientists, students and citizens on how people think about climate science and climate policy.